We are a leading independent Surinamese engineering company, respected and trusted for our expertise in civil and structural engineering, and general project management. SUNECON was founded in 1967 as a sole proprietorship and transformed to a partnership in 2008 (currently 4 managing partners). We have 50+ employees, spread over two offices, our laboratory site and different project locations.
SUNECON is the co-founder of ORIS (the Association of Engineering Companies in Suriname) and BKS (cooperating associations Building and Construction Sector Suriname).
Our company is ISO 9001:2015 certified.
We strive to build strong relationships and inspire and challenge employees at all levels, so they can excel and exceed our Clients' expectations. We believe we have a responsibility to nurture and invest in our staff, creating growth and opportunities for the future of SUNECON in the process.
Our Vision:
We aspire to be the most respected civil and structural engineering consulting firm in Suriname and the region.
Our Mission:
 To advise and supply services related to all aspects of civil engineering, structural engineering and project management.
To advise our Clients and supply our services on a professional level within a framework of high integrity, social responsibility and up to date technical knowledge.
Recognizing our employees to be our most valuable asset, SUNECON
The SUNECON Core Values are the basis for establishing a common culture for the company. We believe these core values are the foundation of our individual and corporate actions that drive our organization, of which we are proud.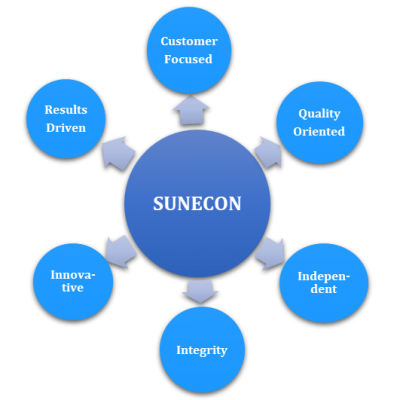 Our Core Values are:
 Professionalism
 Trustworthiness
 Customer focused
 Result driven
 Sense of responsibility for employees and society
 Focus on highest quality
 Uncompromised integrity
 Knowledgeable
 Independent
 Service providers
 Proven reputation and track record
Download our company profile below